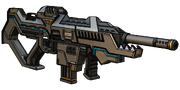 The MX-4 Silenced SMG is one of five secondary weapons in the game. It is available at the Armory. The MX-4 can also be unlocked by leveling the Recon class to level 20.
The silencer does not draw less attention on players. It can be fired while cloaked with the Assassin ability upgrade for the Recon class.
As the only secondary, the MX-4 has a magnifying scope.