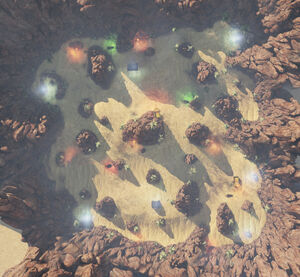 Covan is a smaller map used for various PvP game modes.
A big mountain in the center of the map forces players to go around it one way or the other. There are both big open spaces and a lot of rocks for cover.
Game Modes
Edit
The map supports the following game modes:
Variations
Edit
Covan can be played both by day and by night.
This map is a tribute to the original Covan map in ORION: Dino Beatdown. The layout was created from scratch, but it uses the same theme of sun, sand, red rocks and palm trees.